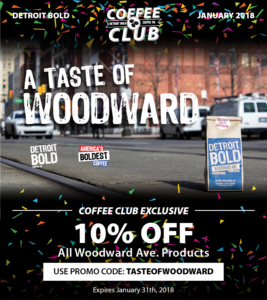 Woodward Avenue is hands down Detroit Bold's top selling coffee.  Woodward Avenue is a rich Arabica blend;  not too dark with just the right amount of smoky smoothness.  We created this blend to pay tribute to that iconic strip that helps define us.  Woodward Avenue drives Detroit, and  true to our selves, make no mistake we travelers are driven as well. We have an unspoken expectation that our coffee will do what its supposed to do; provide a robust taste that's a worthy accompaniment to our task. Go ahead and try some, I hope you'll agree!  Online ordering is easy-fresh-and fast! Just enter the promo code :
You'll save an additional 10% on Woodward Ave. fresh ground or whole bean and single serve Keurig-style cups.
And while you're at it, sign up to our COFFEE CLUB for monthly emails and special deals!
Whether you design it, build it, fix it, grow it or clean it up, be BOLD my friends……Detroit Bold!
#bebold                     #detroitbold                                      TASTEOFWOODWARD
A.J. O'Neil C.B.O.
Chief Bean Officer
Detroit Bold