Hello Detroit Bold Nation!
Detroit Bold has been keeping busy this summer!  We know that as the Awesome-Style Coffee For Hardworking Humans, we need to stay productive (and have some fun too) !
We just got back in from auditioning for Shark Tank in New Orleans! Our  C.B.O. (Chief Bean Officer ) AJ killed the pitch and the producers loved our coffee while our CBC (Chief Bean Counter) Aaron Helander gave 'em the numbers!
It was not all work in NOLA. We also got to visit Acme Oyster House, Café Du Monde, and had dinner on a paddleboat on The Mississippi River. It was a great time and a wonderful city but it's good to be back home in the D!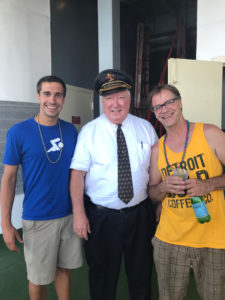 Aaron and AJ with Captain Bob aboard the Steamboat Natchez on the Mississippi river in New Orleans, La.
FUN FACT:   New Orleans has a rich culture and French heritage dating back to its founding in 1718. Café du Monde, the French Quarter and the city itself,  is still heavily influenced by French expatriates and architecture.
During the 1700's, before the American Revolution and American westward expansion, New Orleans, which celebrates it's tricentennial this year was the southernmost settlement in the territory called New France. Ottawa (Canada) was the capital.
And, first settled in 1701 , New Orleans' big sister to the north, the halfway point between these two population centers of New France , was none other than Detroit!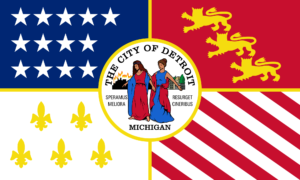 The flag of the American city of Detroit proudly shows its French origins among Native Americans and the British.
In other Big News, Detroit Bold was featured on the July 12, 2018 episode of Comedy Central's hit show "The Detroiters" You will see us on the set a lot this year, we suspect!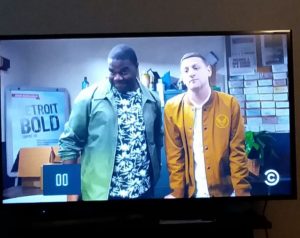 Detroit Bold makes an appearance on Comedy Central's hit show The Detroiters 07/12/18
We have good things brewing for us!
Speaking of good things brewing, have you gotten your limited edition first roast of our 8 Mile Baseline Blend? This extra caffeinated Dark Roast is sure to give you the jolt you need to get through your day. The first 2000 orders will come with a limited edition Baseline Box! Order yours today here:  Baseline-8Mile Blend
#Stay Bold
#Detroitbold
UPDATE: We just got a callback. It's on to ROUND 2 of #sharktank auditions.
Stay tuned!