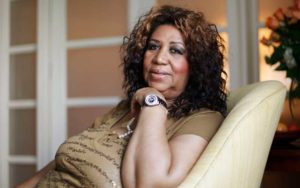 The passing of the Queen of Soul, Detroit's own Aretha Franklin, Aug 16, 2018 has left an indelible loss to not just the music world but to the millions of people who came to find comfort and solace in her grace and dignity. She was a musician for kings, queens and presidents; yet also able to feel right at home with all of us fellow Detroiters without regard, at backyard BBQ's, concert halls and churches.
AJ's Music Café (2007-2012) in Ferndale, Michigan  where Detroit Bold was born, played host to thousands of musicians over the years and many, like Ralphe Armstrong, Buddy Smith, Martha Reeves, Thornetta Davis, The Vandella's and many others who played alongside Ms Franklin have special memories as unforgettable as her angelic voice.
She taught us that no matter what, she was proud to call Detroit home. Through the many years of ups and downs, Detroit always mattered. Be it on a church pulpit or a global stage she showed that hard work, grit, talent and determination were the hallmarks of what it means to be a Detroiter. She was truly our greatest ambassador.
Detroit Bold and I owe an enormous debt of love and gratitude to Aretha Franklin for instilling such global pride in the city of Detroit. Surely she epitomized what it means to be Detroit Bold with honor and R E S P E C T.
Rest in Heaven, Queen of Soul, you will live on for generations.
AJ O'Neil CBO (Chief Bean Officer)
Detroit Bold