Our Holiday Favorite Coffee Recipe – Christmas Bliss Coffee
Looking for a fun holiday coffee recipe? Have fun with this easy to make Detroit Bold coffee recipe. It's a perfect coffee treat to make with friends and family over the Holidays!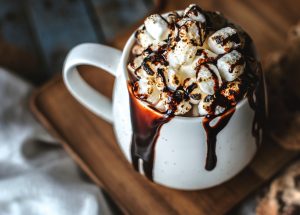 Ingredients: (Makes 4 cups)
1 cup of Egg Nog (can substitute with milk or a dairy alternative such as soy milk)

3 tablespoon of sugar

1 teaspoon of nutmeg 

2 1/2 cups of Bold Coffee – we suggest our Holiday favorite blends: Christmas Roast or Forgotten Harvest Dark Roast 
A handful of small marshmallows
Milk Chocolate Hot Fudge – We suggest Detroit based, Sanders Milk Chocolate Hot Fudge
How to prepare:
Warm the eggnog and sugar in a microwave safe bowl for 1 minute. 

Whisk the mixture until it becomes foamy.

Carefully pour equal parts into four of your favorite coffee mugs
Add small marshmallows to your coffee mug

Make the espresso or brewed coffee 

Pour hot coffee on top of marshmallows
Warm Milk Chocolate Hot Fudge and drizzle over the top
Sprinkle nutmeg on top and serve.
Enjoy this recipe and let us know what you think!
For other coffee tips, recipes, and more information about Detroit Bold Coffee, click here
As you might know, we have a passion for the city and the people of Detroit. Detroit Bold chooses to support Forgotten Harvest by donating a portion of the proceeds back to this incredible cause. We blend two types of Forgotten Harvest handcrafted roasts; a light roast and a dark roast. We chose these blends because they go perfectly with the cool Fall & Winter weather. The light and dark roasts are a perfect hit for get-togethers with friends & family. You can enjoy this seasonal blend of coffee right now! Stock up with extras knowing it's a perfect holiday blend & you are supporting a great cause with every sip you take!