Don't forget to leave Santa some cookies and…DETROIT BOLD COFFEE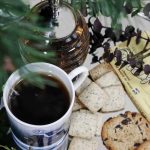 Yes, we know you typically leave out milk and cookies for Santa. Just think about it, we need coffee to keep us going through these long, dark winter days but Santa flies all around the world in just 24 hours! That guy needs some strong Detroit Bold coffee and so does his reindeer!
Coffee is perfect for all occasions, especially during the holidays when your days are spent shopping (imagine black Friday without a little caffeine – yikes), wrapping presents, visiting family, building snow-people, and everything else on your holiday to-do list.
Sure, you could drink hot cocoa but that just makes you tired. Instead, you can give yourself (and Santa) that same warm feeling, a bit of energy. So give Santa a BOOST when you give him his cookies with our Baseline – 8 Mile Coffee Blend. He'll be sure to love our Deep Dark Roast made with our Snickerdoodle Latte Coffee Recipe.
Detroit Bold High Energy Snickerdoodle Latte Coffee Recipe
Ingredients:
1 and 1/2 cup milk

2 tablespoons light brown sugar

1/4 teaspoon ground cinnamon

1/2 cup espresso or strong brewed coffee (hot) – for Santa, we suggest our high octane Baseline – 8 Mile Blend or our tasty 

Christmas Roast

.

Cinnamon Sugar to sprinkle on top (optional)
Detroit Bold Snickerdoodle Latte Recipe Directions:
Pour the milk into a small jar that has a lid, add the light brown sugar and cinnamon.

Tighten the lid onto the jar and shake for about 1 min.

Remove the lid and heat the milk in the microwave for about 30 seconds.

Pour coffee or espresso into mug, pour the warm milk into the mug with the coffee. Spoon out any remaining foamy milk if left.

Sprinkle cinnamon sugar on top. Serve warm and enjoy!
This delicious Snickerdoodle coffee recipe is sure to satisfy Santa's cookie craving and keep him energized enough to handle all of his Christmas duties. It is also simple enough to make that even your little ones can help you prepare it and set it out for Santa!
Send us a message and let us know what keeps you busiest during the holiday season!
Santa's Favorite High Energy Coffee is Detroit Bold's BASELINE – 8 Mile Deep Dark Roast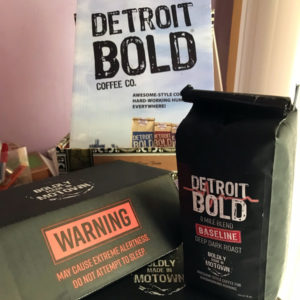 Written by Alasia Pettway – Lover of Detroit Bold & Cookies!