Detroit Style Caramel Coffee Float
Looking for a fun coffee recipe? Enjoy this easy to make Detroit Bold coffee recipe. It's a perfect caramel coffee treat to make with friends and family!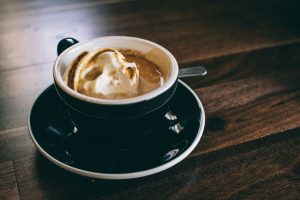 Ingredients: (Makes 1 large tasty cup)
1/4 cup of Milk (or substitute with a dairy alternative such as soy milk)

1 scoop of vanilla ice cream or whipped cream

Carmel topping
How to prepare:
Warm the milk in a microwave safe bowl for 30 seconds. 

Carefully pour coffee into your favorite coffee mug
Add a scoop of ice cream or whipped cream
Drizzle caramel topping over the top
Enjoy this recipe and let us know what you think!
For other coffee tips, recipes, and more information about Detroit Bold Coffee, click here
Looking for the Perfect Gift?
Try our Detroit Bold Gift Sets! We have something for everyone. Detroit Bold Gift Sets are perfect for client gifts, holiday gifts, birthday gifts, and more. . .