A-Aron's Chocolate Coffee Cake
What's the perfect treat to eat when enjoying a delicious cup of Detroit Bold Coffee? A delicious, made from scratch chocolate coffee cake!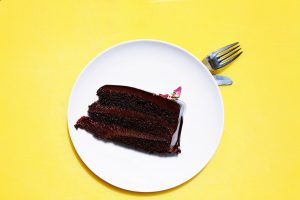 Ingredients: (Makes 1 delicious chocolate coffee cake)
3 cups all-purpose flour
2 cups sugar
1 cup cold butter or margarine
4 teaspoons baking cocoa
3 teaspoons ground cinnamon
1 teaspoon baking soda
1/2 teaspoon baking powder
1/2 teaspoon ground nutmeg
1/8 teaspoon salt
1/8 teaspoon ground cloves
1 cup raisins
1/2 cup chopped nuts
2 cups buttermilk
How to prepare:
In a large bowl, combine the flour and sugar; cut in butter until crumbly. Set aside 1-1/4 cups for topping.
To the remaining mixture, add cocoa, cinnamon, baking soda, baking powder, nutmeg, salt, and cloves; mix well. Stir in raisins and nuts.
Make a well in the center; pour in buttermilk and stir just until moistened. Transfer to a greased 13-in. x 9-in. x 2-in. baking pan. Sprinkle with
reserved crumb mixture. Bake at 350 degrees F for 35-40 minutes or until a toothpick inserted near the center comes out clean. Cool on a wire rack.
Enjoy this coffee recipe and let us know what you think!
For other coffee tips, recipes, and more information about Detroit Bold Coffee click here
Looking for the Perfect Office Coffee or Birthday Gift?
Try our Detroit Bold Gift Sets! We have something for everyone. Detroit Bold Gift Sets are perfect for client gifts, holiday gifts, birthday gifts, and more. . .