There's a picnic of sorts, every other weekend in the shadows of Detroit's Little Caesars Arena, just across the Masonic Temple on the outskirts of downtown in Cass Park.  The picnic happens on the second and fourth Sunday of every month, in all seasons, all weather. After all, homeless Detroiters must endure. Weather considerations are always part of the day.
And so we gather.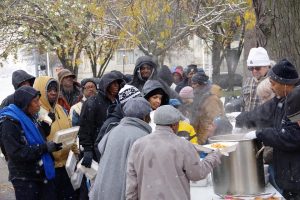 The picnic is a pot-luck with hearty staples like beans and rice, jambalaya, a variety of bread, and deserts. Hot cider and coffee are extra appreciated today, where the cold winter wind of the Great Lakes is checking in with temps in the teens at the 11 am gathering.
No questions asked, the Wobbly's, an outfit from the IBEW (International Brotherhood of Electrical Workers) Local 600 union hall along with the MCHR (Michigan Coalition for Human Rights and various volunteers serve up anyone who comes by with a warm, nutritious meal.
Everyone recognizes the faces and names of the regulars through the transient community never stays the same. The men and women who prepare the feast all feel that there is but one mission which comes with every meal: that we are all part of one community obliged to raise our hand out to our wounded and forgotten fellows.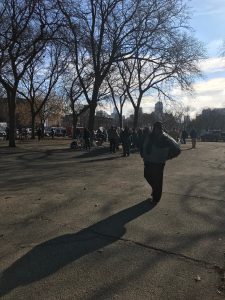 Each time we gather, in rain, sleet, freezing cold, sunshine and snow, there is warmth found in comradery, gratitude and sincere appreciation. For a couple of hours every other Sunday this bold family of sorts gathers and even if only briefly, troubles are cast aside. No one is alone and everyone is genuinely loved.
There is no greater gift than that.