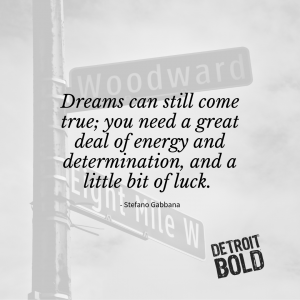 North, south, east or west, the people and communities that have a connection from this iconic crossroad of Detroit is amazing. There are histories, cultures and great stories that stretch far beyond the place we call home!
As we take a drive through the towns that line these two world-renowned roads, we're going to tell a little story about their connection to Detroit.  So, Here it goes!
8 Mile & Woodward: GO! Royal Oak
Headlight on: Royal Oak, Mi. 48073, 48067
Once you pass Ferndale, then Pleasant Ridge, heading north on the east side of Woodward Avenue at I-696/10 Mile Road, you enter Royal Oak, Michigan
Urban tale recalls an 1819-1820 surveying expedition that found Territorial Governor Lewis Cass resting for lunch under an oak tree near where present-day Main Street meets Catalpa, Crooks and Rochester Roads. The tree reminded him of the famous Royal Oak tree in England which is where the future King of England, Charles II hid in to escape enemy pursuit. And thus, he dubbed the area Royal Oak.
Royal Oak's downtown has developed as an entertainment and nightlife destination for metro-Detroiters and out of town visitors alike. It is host to the huge Labor Day Festival Arts, Beats & Eats which attracts well over 400 thousand visitors to the area annually. Royal Oak is also a major hub of the Woodward Dream Cruise and its famous stop at the old Northwood Shopping center at 13 Mile & Woodward was the main pitstop for all of the Woodward Strip for decades. It is where Woodward is immortalized in the Bob Seger Hit song Horizontal Bop.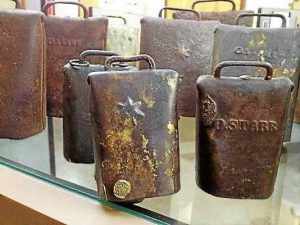 Orson Starr and his family ushered industry into the fledgling village of Royal Oak, Michigan with a cowbell factory they built in 1831 (Photo courtesy of pinterest.com)
Beyond the intersection: Moo! Orson Starr and his wife Rhoda built a home here in 1831 and began manufacturing cowbells in a factory near his home. The cowbells were part of Royal Oak's first industry and were of the best quality. Stamped with Starr's trademark, they are prized by collectors today!
Order your own crossroads of Detroit here
8-Mile Coffee Blend – Deep, Dark Roast Coffee – Strong Coffee – 16 Ounce Bag