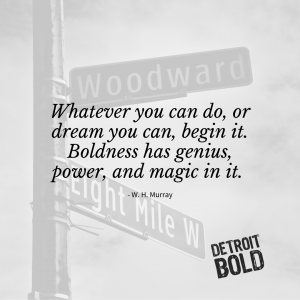 North, south, east or west, the people and communities that have a connection from this iconic crossroad of Detroit is amazing. There are histories, cultures and great stories that stretch far beyond the place we call home!
As we take a drive through the towns that line these two world-renowned roads, we're going to tell a little story about their connection to Detroit.  So, Here it goes!
8 Mile & Woodward: GO!
The headlight on Bloomfield Hills, MI 48302 & 48304
Eight Miles north of 8-Mile, where 16 Mile Road is called Quarton to the west and Big Beaver to the east straight up  Woodward begins the beautiful city of Bloomfield Hills, Michigan. What is now Bloomfield Hills was a farming area until the turn of the 20th century when wealthy Detroit residents bought up the land. The settlement became a village in 1927, and in 1932 residents voted to become a city.
Bloomfield Hills has Woodward's steepest hill between Lone Pine and Long Lake (18 Mile) Rd.
Bloomfield Hills is one of the wealthiest cities in the United States yet has many historic attractions and destinations that give this small town of under 4,000 residents a welcoming spirit to all.  A  National Historic Landmark,  Cranbrook's Educational Community, an education, research, and public museum complex is among the finest in the world. The sprawling 319-acre (1,290,000 m2) campus began as a 174-acre (700,000 m2) farm, purchased in 1904. The organization takes its name from Cranbrook, England, the birthplace of Cranbrook's founding father, newspaper mogul George Gough Booth's father.
Beyond the Intersection: Say Cheese Many famous people and public figures of several professions hail from or have lived in Bloomfield Hills, among them immortal actor Robin Williams, US presidential candidate, former Massachusetts governor and current US senator for Utah, Mitt Romney and his father, Michigan Governor George Romney. Also, the architect of New York's World Trade Center Minoru Yamasaki, Detroit Red Wing and hockey legend Gordie Howe, Detroit Tigers and Baseball Hall of Famers Al Kaline and Charlie Geringer as well as Detroit Piston Bad Boys  Joe Dumars and Richard "Rip" Hamilton.
Tired of shopping for coffee? We make it easy with our subscription program. Order up today!
Coffee Subscription – 1LB Baseline 8 Mile Deep Dark Roast Blend