The Roads Of Detroit
A Series brought to you by Detroit Bold Coffee
Awesome-Style Coffee For Hardworking Humans Everywhere
Ever drive through Detroit and wonder where the name of the street came from? You're not alone! Detroit and its vast metropolitan area have a centuries-old rich, diverse history. The names of our streets weave a wonderful story that literally connects us all.  Let's take a drive!
Destination: Dequindre Rd
Dequindre Road is a north/south road and is a county line, separating Macomb and Oakland counties beginning due north from 8 Mile. Dequindre road begins a few miles south of there in Hamtramck and travels north through the suburbs until it swerves at 26 Mile road where the Clinton river meets her end.
Dequindre gets its name from  Antoine Dequindre (1781-1843) . Antoine was born in Detroit and became a shopkeeper. He joined the Michigan Regimen to repel a British/Canadian/Native American incursion in Detroit during the War of 1812 and was instrumental in the decisive  Battle of Monguagon in current day Riverview, one of the downriver (Detroit) communities.
The Dequindre Cut is part of an old Grand Trunk Western Railroad line that used to run from the foot of the Detroit River to Royal Oak. This 2-mile cut is now a must-stroll, below-grade urban greenway trail that runs from roughly east behind Eastern Market all the way past Jefferson to the Detroit River. Its stunning, natural beauty is eclipsed with street graffiti and concrete shared with dog-walkers, joggers and bicyclists!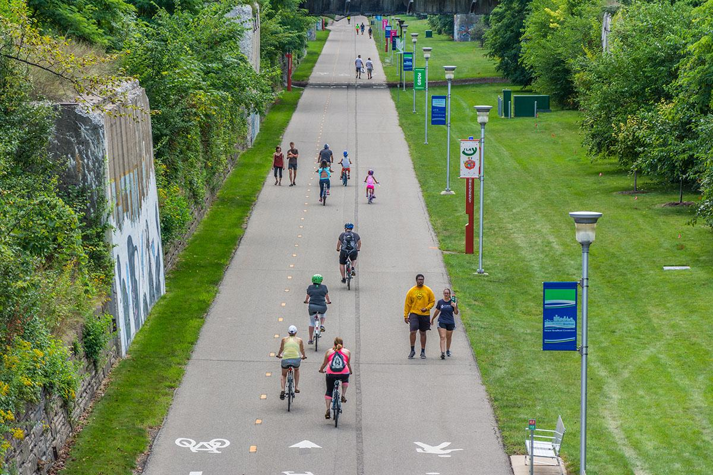 The Dequindre Cut in Detroit, Michigan (photo courtesy of High Line Network)