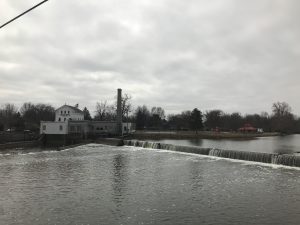 The River Raisin, pictured here in downtown Dundee, Mi. was named by  18th century French settlers (La Rivière aux Raisins) for the plentiful grapes that grew along her shoreline. It was a highly traveled river and was portage for the Potowanami & Wyandot tribes between the upper river to gain access into the Grand and Kalamazoo rivers flowing west toward Lake Michigan. Legend has it that a 14 year old boy named Pontiac would travel here to visit family and meet up with a favorite fair maiden.

During the winter of 1813 as part of the War of 1812, the Battle of Frenchtown occurred near the river. British and Native American troops under the command of British General Henry Procter and Native American chiefs Roundhead, Walks in Water, and Split Log, were allied against a division of ill-trained Kentucky infantry and militia under command of General James Winchester. Cut off, surrounded and facing total slaughter, Winchester surrendered with British assurances of safety of the prisoners. The British and Potawatomi allies marched those who could walk to Detroit. But the next day, many of the severely wounded prisoners left in Frenchtown were killed by the Native Americans allies of the British.

"Remember the Raisin" became a battle cry for Americans in the war, particularly for Kentuckians. United States troops returned in the spring to drive the British from Michigan forever.

On October 12, 2010, the land was transferred to the federal government. By Congressional authorization, it is the only National Battlefield Park designating a battlefield of the War of 1812 – the River Raisin National Battlefield Park.

The river has many small dams to control water flow. These were erected to power the many paper mills constructed along it in the mid-1800s during the lumber boom. The area also attracted Henry Ford and many dams are also products of Ford's rural industry villages program. While most of the dams are in Monroe, the most significant one is located here in Dundee, Michigan.

Delivering fresh coffee and tea to the many fans of Detroit Bold Nation gives us a great opportunity to learn of the great history here in our Great State. We'll surely be in your area , so order up!  We'd love to know the stories and history behind your neck of the woods!