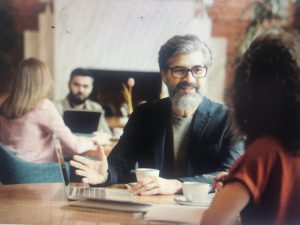 Photo via Pexels
Effective Offline Networking Tips for Small Business Owners
Coffee has the power to bring people together. They offer excellent networking opportunities for small business owners looking to make local connections. In fact, coffee shops are perfect meeting spots for chatting with clients or brainstorming with team members, and they're great for finding freelancers who may be interested in lending their skills to your business. Plus, spending your money at independent coffee shops will help build your reputation as an entrepreneur who supports other small, local businesses.
Here are some tips from Detroit Bold Coffee Co. to help you get the hang of offline coffee shop networking!
Get Organized
When it comes to offline networking, good organization is key. You can't just refer back to emails or social media messages to find information about your new contacts. While handing someone a business card will ensure they can reach you if they want to connect in the future, you have no way of following up on your own unless you collect and organize their contact information as well. This is where online tools come in handy. Set up some simple contact management software that you can update after each offline interaction. 
It's also important to have your digital files organized, so that you can find what you're looking for when you need it. You don't want to be fumbling around on your laptop instead of talking with a new contact. As you go through your files, delete the unneeded pages and save only what is relevant. You may find that splitting up files is helpful in order to organize by type or subject. You can use an online editing tool to delete unnecessary pages by adding the file, selecting the thumbnails of pages you don't want, and selecting the trash can icon. You can always create a folder with master files in case you find you need that deleted information in the future.
Collaborate with Your Favorite Coffee Shop
One of the best ways to network at your local coffee shop is to chat with the owner. Look for ways your two businesses complement each other and consider cross-promotional strategies that will offer mutual benefits. For example, HotShot Coffee Sleeves suggests that you could each offer your respective customers discounts to each other's stores. This type of cross-promotion works great when two businesses target similar audiences with different products. 
Optimize Bulletin Board Posts
Many independent coffee shops hang public bulletin boards where you can find information about community events and networking opportunities. Keep an eye on this bulletin board. You might just find someone looking to connect with other entrepreneurs! Alternatively, ask the coffee shop owner if you can post your business card or flyer on the board for customers to read. 
You can easily create a knockout flier using tools like a free online flier maker. Look for a platform that offers a template library so you can quickly customize a flier to match your preferred aesthetic. You can pair this flier maker with a banner template to help you create graphics you can incorporate into your print media as well as your digital campaign.
Set Up Coffee Meetings
Beyond serving as a great place to connect with other professionals, coffee shops make fantastic locations for business meetings. If you know someone who you would like to have a chat with, get in touch and invite them out for coffee. WayUp recommends keeping your invitation short and to the point. Make it clear what you would like to discuss at your meeting, whether you're looking for someone to join your team or a mentor to guide you through your entrepreneurial journey. 
It's important to come to your meeting with some kind of plan. You don't have all day to sit and chat with your contact. Try to be casual, but focus on what you hope to achieve during the meeting. This means being confident and comfortable redirecting the conversation when your prospect starts to get sidetracked. However, be careful not to talk about yourself too much. Instead, discuss how your request is specifically relevant to them!
Reconnecting with old friends, especially from high school, is a great way to build your network and make new connections. With online databases, you can quickly find out who has moved on to pursue their interests after graduation. Why not reach out and catch up over coffee? Not only will this help you build strong relationships but it could also lead to opportunities in the future. Looking up old high school friends using an online database is a great first step in rekindling those friendships and boosting your professional contacts.
Embrace the Face-to-Face
Networking in coffee shops might feel a little unusual to entrepreneurs who focus on social media and email. But by putting yourself out there and connecting with locals, you can meet some great people! Get yourself organized so that you're ready to share important, relevant information when the opportunity arises. Whether you're looking for new customers or valuable business contacts, don't overlook the value of networking at your local coffee shop!


If you're searching for the right place to network over coffee, be sure that they offer delicious Detroit Bold Coffee Co. coffee! Visit our website to find a store near you today!