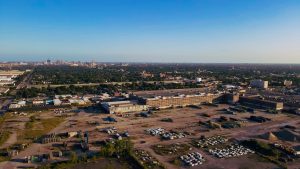 History of Highland Park
Highland Park is a historically rich neighborhood in the City of Detroit. Henry Ford began development of the Ford Assembly Plant in 1907, and construction completed in 1909. The plant (located in the picture above) created a dramatic population increase to Highland Park in 1913 when the plant opened the very first assembly line. This increase was over 1000% by the 1920s, where the city's highest population grew to about 46,000.
D Bold Lives on in HP
The City of Highland Park is the home of many other historical treasures, such as the first freeway stretching through the city in 1944, as well as the Detroit Bold Coffee roaster. To this day, Highland park is home to manufacturing Detroit legacies, and the very own fuel of choice of hardworking humans that is Detroit Bold Coffee.