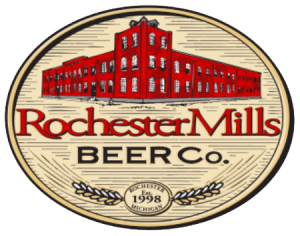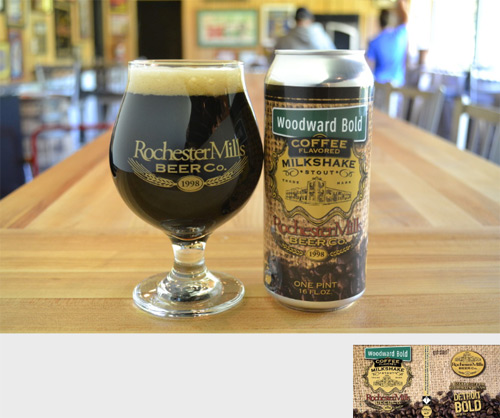 ROCHESTER MILLS TEAMS UP WITH LOCAL ROASTER TO BREW
 WOODWARD BOLD COFFEE MILKSHAKE STOUT
Rochester Mills Beer Co. & Production Brewery
Auburn Hills, MI – Rochester Mills Beer Co. & Production Brewery announce the 2017 release of Woodward Bold, a Coffee flavored Milkshake Stout brewed with locally roasted Detroit Bold Coffee Co.'s Woodward Ave. Blend coffee.
The latest in the series of flavored versions of Milkshake Stout, Rochester Mills most popular brew. A cup of local joe and a beer come together for an intricate and unique taste to be enjoyed any time of day. Woodward Bold pairs as easily with chocolate cake as it does with a hearty breakfast of steak and eggs. Fans can get their first taste at a beer release party on June 16th at the Production Brewery in Auburn Hills, Michigan.
"Our Woodward Bold gets its solid foundation from using Milkshake Stout as the base, which imparts a smooth and rich malt character. Then we add the Woodward Ave blend coffee that is roasted to perfection, and equally smooth with just the right amount of smoky balance." said Mike Plesz, Founder of Rochester Mills Beer Co. and Production Brewery. "We chose to collaborate with a local roaster, Detroit Bold Coffee Co, and we infused a special blend of their coffee using a cold press-extraction method. Detroit Bold Coffee Roasters is the right partner not only for their amazing coffee, but also because they're local guys trying to make it in the Motor City just like us."
Rochester Mills Woodward Bold (approximately 5 percent alcohol-by-volume) is a milk stout-style ale brewed with a proprietary blend of eight different malts, lactose, cocoa nibs and 100% Arabica coffee beans. The result is a beer that pours jet black with an off white to tan colored head. The fusion of roasted malts, lactose and rich, cold-brewed coffee result in layers of mildly bitter, dark chocolate and sweet caramel-like flavors.
Woodward Bold Milkshake Stout is available on draught to bars and restaurants across Michigan including the Rochester Mills Beer Co. in downtown Rochester and in select parts of Northern Ohio. Additionally, as with all of Rochester Mills' core and seasonal beers made at the Production Brewery, Woodward Bold is packaged in 16 oz. cans, and available to stores where better beers are carried.